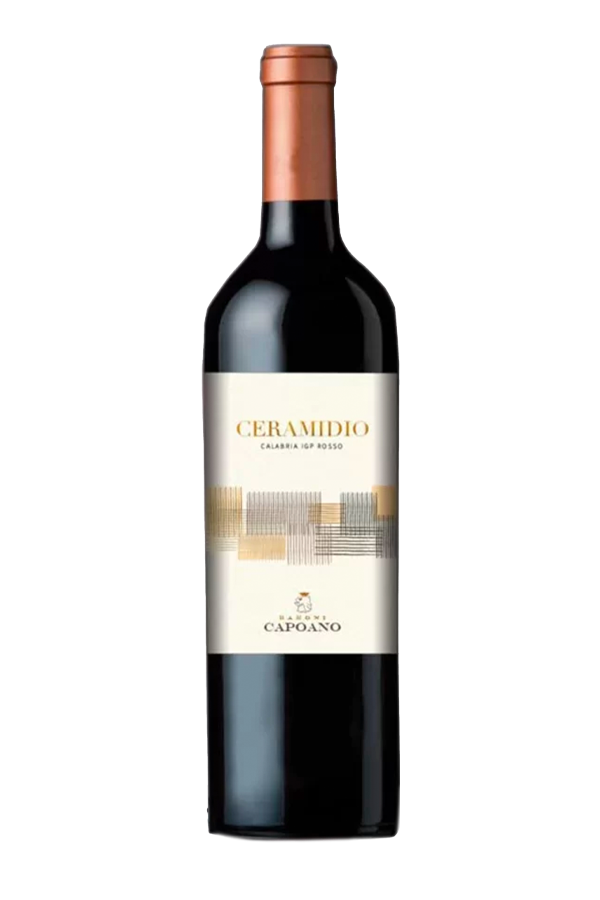 This rare CERAMIDIO wine, of limited production, is the happy result of years of research aimed at creating a simply unique wine that contains in itself four vines, which complement and enhance each other. It comes from noble hill grapes exclusively cultivated in the sunny vineyards of our winery.
Serving suggestions: excellent suitable with roasts chickens and roast of veal, dishes of country kitchen and cheeses.
Production technique: classic red vinification of Cabernet, Merlot , Syrah and Gaglioppo grapes; the fermentation of the grapes takes place in a separate manner respecting the periods of maturation. The must with the skins is brought in thermo-conditioned ferments, the fermentation lasts about 12 days at a constant temperature, about 25°. At the end of fermentation, thanks to pressing, the wines, after analytical inspection, are assembled in steel tanks. The wine will be stored for about 12 months in barriques of second and third passage of French wood where malolactic fermentation will take place. Then the pre- bottling process is carried out, with a short stay in the bottle before marketing.
Peculiar characteristics: intense ruby red wine, full of good perfume, rich in body, mature, robust and dry.
GRAPE
25% Cabernet Sauvignon
25% Gaglioppo
25% Syrah
25% Merlot
IDEAL SERVICE TEMPERATURE
16 – 18°C